Name: Zane Chaz Thompson
Job: Trainer and Coordinator
Age: 16
Bio:
Zane Grew up in Pallet town and traveled a bit before stumbling upon the academy during a training session he arrived with His three pokemon Pokémon, one dream, one goal to become a master trainer and co-ordinator. Zane's Pokémon are Alakazam, Gengar and Lucario he was given his Alakazam as a Kadabra in a trade for his old Yanmega what evolved after the trade however already with him was his Gengar which he had met in Lavender Town when visiting as a Gastly and it evolved one month after he caught it and again 2 months later after double trading with his mother. His third pokemon was Lucario which he met as a Lucario after receiving it from one of his parents traveling friends from a daycare center in Sinnoh and after that they all continued on when a week and a half later they came across the academy and went in to enrol into it and has been in the school since he was 15 years old.
Personality:
A super cool laid-back kid who always practices with his pokemon as they enjoy it and that is the whole reason they have reached their levels and he wishes to become an awesome Trainer and Coordinator and he enjoys doing both equally. He enjoys climbing trees and chilling out in the shade. He has a younger brother called Leon who is 4 and is over protective of him.
First Pokémon: Gengar
Appearance: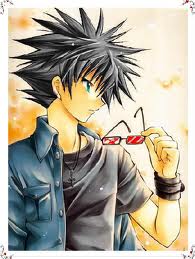 Pokémon:
Gengar
lvl 48
Moves include:
Hypnosis - start
Lick - start
Spite - start
Mean look - lvl 8
Curse - lvl 12
Night shade - lvl 15
Confuse ray - lvl 19
Sucker punch - lvl 22
Shadow punch - lvl 25
Payback - lvl 28
Shadow ball - lvl 33
Dream Eater - lvl 39
Dark Pulse - lvl 44
Ability: Levitate
Personality: Jokey and Excitable always watching out for Zane and other pokemon or people in trouble.
Alakazam
lvl 46
Moves include:
Teleport - start
Kinesis - start
Confusion - start
Disable - lvl 18
Miracle eye - lvl 22
Ally switch - lvl 24
Psybeam - lvl 28
Reflect - lvl 30
Telekinesis - lvl 34
Recover - lvl 36
Psycho Cut - lvl 40
Calm Mind - lvl 42
Psychic - lvl 46
Ability: Inner Focus
Personality: Caring and Happy, quite wise and always on the look out for other young pokemon enjoys teamwork as he normally works with Gengar as a Duo.
Lucario
lvl 44
Moves include:
Dark pulse - start
Quick attack - start
Foresight - start
Detect - start
Metal claw - start
Counter - lvl 6
Force palm - lvl 11
Feint - lvl 15
Bone rush - lvl 19
Metal sound - lvl 24
Me first - lvl 29
Quick Guard - lvl 33
Swords Dance - lvl 37
Heal Pulse - lvl 42
Ability: Steadfast
Personality: Hardy and always trying to practice it's aura skills with people.